THE ELEMENTS AND YOUR "CEDAR" ROOF
Unfortunately, when you buy a home you don't receive an owner's manual along with it. You're home is probably one of the most expensive purchases you will make. The work that you are considering should not be taken lightly.
The decisions that you make here, can cost you or save you a great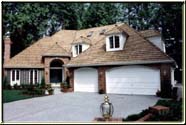 deal of money. Protecting and maintaining the roof that protects you, you're family and you're possessions should be a primary concern. Here is some general information regarding your roof, from JET CLEAN ™.
A cedar roof expands as it heats up during the day and contracts at night when it's cooler. Your roof also swells when it rains and shrinks when it's dry. So on a daily or seasonal basis your roof does absorb a lot of natural abuse – expanding and contracting, expansions and contractions. If your roof is never allowed to dry out, it will just rot. For example: in this situation… if your house is near trees, the debris from those tree's will settle on your roof acting as a sponge collecting all of that moisture as it sits. This debris will not allow the roof to dry out, and in turn will dramatically shorten the life or your roof.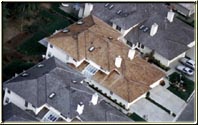 Pollution, floating pollens, airborne spores and residual debris are a great food source for moss. These all have the destructive capacity of absorbing and holding water. Shaded areas such as overhanging branches, roofing and walls are all perfect breading grounds for moss to grow. The Northern facing surfaces of roofing generally get the least amount of the sun and in turn will take longer for moisture or dew to evaporate or run off. The steeper the roof pitch, the more moss will grow. Moss creates an additional problem with its root system by compounding the deterioration process further causing the cedar to pit, split and crack. Eventually, your roof will just leak and most likely cause damage inside of your home until its repaired or replaced.
Wind is really not a problem in the Pacific Northwest, unless the roof is constructed improperly. Most manufacturers do have limits of liability on there products if the wind speed is above 50 +/- knots, before the warranties are effected or expire. Wind can cause rain to be driven and penetrate your roof by blowing water under the roofs individual shakes or shingles. A heavy wind could also blow the rain directly under your valleys, flashing, ridge vents, skylights and siding. The initial construction of the roof or the quality of the roofing product itself, is generally the largest consideration here.
Sun on the other hand is a serious threat to your roof. The sun and its powerful UV radiation can bake the life right out of your roof. Consider that on a hot summer's day the roofs temperature can reach as high as 180 degrees Fahrenheit. The sun will cause the valuable natural naphthenate resins (oils) to leach out of the cedar. These oils are the raw cedars own natural protection against the sun itself. Once it's gone – it's gone for good. The cedar's premature aging process begins from cupping… to brittleness… to cracks… to leaking… to repairs… to replacement…
---
HELPFUL HINTS
Keeping your roof "free of debris" weather it's a total cleaning or just a periodic loose debris "Tune-up" will make all of the difference and your roof will last much, much longer.
Making sure that all of the leaks and seriously cupped and damaged shakes are replaced on an "as needed" basis will also make your roof last much, much longer.
Making sure that your roof has been treated properly against moss re-growth, ultraviolet invasion, and water penetration by applying CEDARGUARD to your roof when it's new or after an older roof has been cleaned properly. CEDARGARD will reduce the effects of the sun, water, wind, pollution and moss damage to your roof. While in turn preserving your cedar roof for the maximum usage and lifespan of your roof.
Go to "Get an Exact FREE Bid on you're Roof"
Go to "Technical Information on Moss and Fungus Defined" (boring alert)