Jet Clean - Professional Roof Cleaning, Maintenance, Pressure Washing, Treatment, Repair, Preservation, Restoration, Certifications, Replacement, Cedar, Shake, Composition, Decks, Tile Roofs, Seattle Washington, Bellevue, King County">
| | |
| --- | --- |
| | ® |

Roof Treatments for New and Cleaned Roofs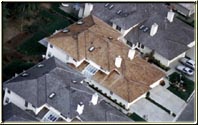 This roof was treated when the roof was new and the other two roofs
didn't want the treatment. After two years it's clear that treating your
roof is the best choice for your roof.

This is a great photograph depicting the differences between a "treated" roof and an
"untreated" roof after two years since construction of all three roofs.

The application of "Cedarguard" is sprayed on making sure
that every splinter gets protected.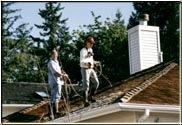 This is during the application of "Cedarguard" to this roof,
along with one safetyman and the other actually applying the treatment.




Home :: Photo Tour :: Contact Us :: Add Site to Favorites :: Print Page :: Links :: Top of Page
Copyright © 2010 Jet Clean


this site is still up to thank all my past customers & please use it as a reference