Jet Clean - Professional Roof Cleaning, Maintenance, Pressure Washing, Treatment, Repair, Preservation, Restoration, Certifications, Replacement, Cedar, Shake, Composition, Decks, Tile Roofs, Seattle Washington, Bellevue, King County">
| | |
| --- | --- |
| | ® |

Tune Up: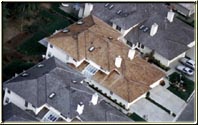 A Roof Tune-up

Tuning-up your roof is having JET CLEAN remove all of the loose debris from your roof along with cleaning the gutters and all or the over spraying debris on the home and grounds. This is a great temporary problem to heavy debris and is often done between roof cleanings. A Roof Tune-up is usually used for houses that are heavily and directly exposed to overhanging Trees. The standing debris will rot the life right out of your roof… Please try to keep your roof swept if nothing else…

Generally, the price is roughly one third of the price of the Roof Cleaning Process.
Please look at these recommended reading areas specifically for your roof.



Home :: Photo Tour :: Contact Us :: Add Site to Favorites :: Print Page :: Links :: Top of Page
Copyright © 2010 Jet Clean


this site is still up to thank all my past customers & please use it as a reference